Recipes
Potato, celeriac and morel bake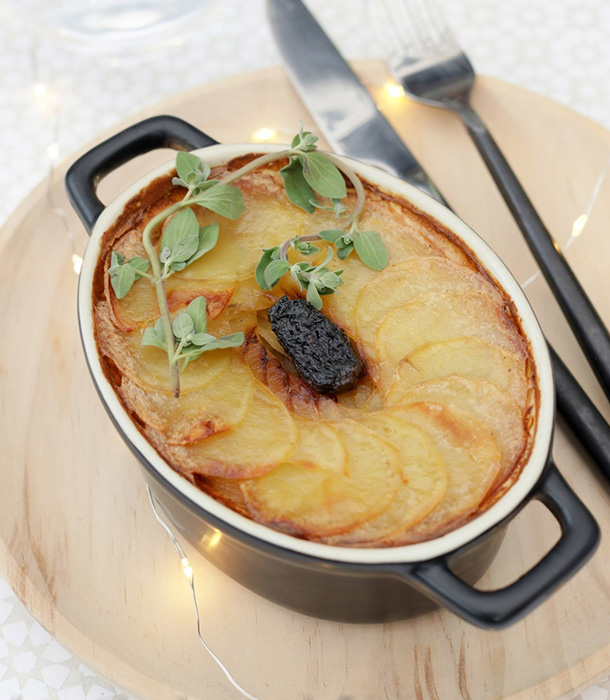 Préparation
1
The day before: Defrost the morels in a small bowl and keep the juice for another dish, like a risotto.
2
On the day: If the morels are too big, cut them into pieces. Heat half the butter and add half the finely grated garlic. Add the morels and cook for around 5 to 10 minutes. Season with salt and pepper and put to one side.
3
Heat the milk (do not boil). Turn off the heat before the milk sticks to the base of the pan, then add the marjoram sprigs. Cover and leave to infuse.
4
Peel the potatoes, wash them and slice them thinly (around 1mm) with a mandolin.
5
Peel the celeriac and grate it.
6
Preheat the oven to 170°C.
7
Rub the small ramekins with the remaining half garlic clove, then butter them.
8
Arrange the potato slices on the bottom of the ramekin, top with a thick layer of grated celeriac, then a few morels and cover with the remaining potato slices.
9
Put a small whole morel in the centre.
10
Repeat with the other 3 ramekins.
11
Filter the infused milk and combine it with the whole cream. Season with freshly ground pepper and salt and divide the mixture between the ramekins.
12
Cover each dish with foil and bake for 45 minutes.
13
After 45 minutes, remove the foil, increase the heat to 200°C and bake for a further 10 minutes until golden brown.